MCLA Gallery 51, Babel's Bricks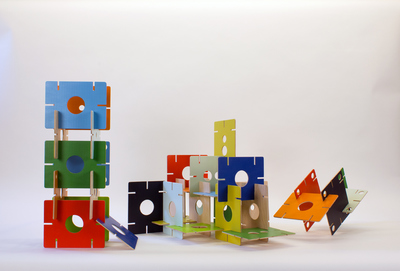 Massachusetts College of Liberal Arts
Gallery 51

Babel's Bricks
Curated by Corwin Levi

May 25 - June 25, 2017
Opening Reception: May 25, 5 - 7 pm

Artists: Pam Rogers, Caleb Taylor, Ryder Richards, Stephanie Williams, Heidi Pollard, Rodney Carswell, Natasha Van Netten, Sarah Burris, Sarah Fagan, Paul Inglis, Megan Suttles, Katie Loughmiller, Brittany De Nigris, Matthew Northridge, Max Spitzer, Roger Feldman, Afton Love, Susan Dopp
---
Good to Go at Exhibit/208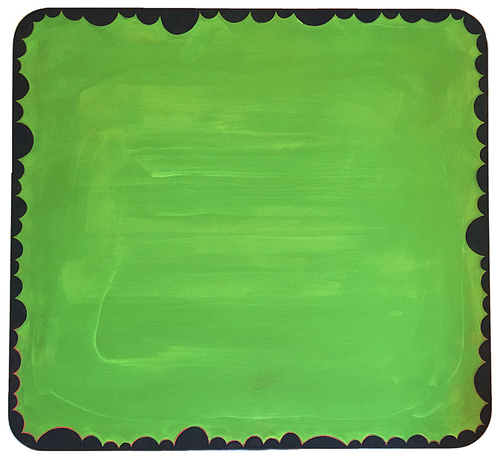 Good to Go: new paintings by Heidi Pollard
April 8 - 29, 2017

Opening reception: April 14th, 5 - 8 pm

Exhibit/208
208 Broadway Blvd. SE
Albuquerque, NM 87102
505.450.6854

Gallery hours: Thursday - Saturday, 10am - 4pm
---
Heidi Pollard: Call and Response at UNM Art Museum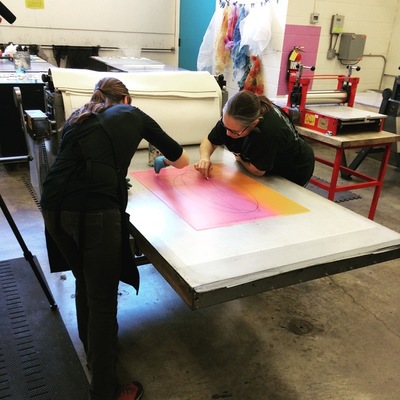 UNM Art Museum has partnered with Albuquerque-based artist Heidi Pollard for an engaging project that explores the lasting influence of Abstract Expressionist artist Adolph Gottlieb on contemporary art. In direct response to the exhibition A Painter's Hand: The Monotypes of Adolph Gottlieb, Heidi Pollard has created a new body of work that examines how his legacy continues to impact artists today. Pollard's installation will incorporate original monotypes, made in collaboration with Brooke Steiger of UNM Printmaking, as well as hand-cut and painted objects that reference the visual language and energy of Gottlieb's work on view at the Museum. Heidi Pollard: Call and Response is the first in a series of new initiatives, through which the Museum strives to make meaningful connections between our collection, exhibitions and contemporary art practice. Heidi Pollard: Call and Response will be on view at the UNM Art Museum from March 23 - April 29, 2017.

Heidi Pollard is a painter and sculptor, born in Detroit, Michigan, and currently based in Albuquerque, New Mexico. She has exhibited her work widely throughout the US and has received awards from the Adolph and Esther Gottlieb Foundation, the Joan Mitchell Foundation, the Pollock-Krasner Foundation and the New Jersey Council on the Arts.


---
Bernalillo County Arts Board: New Mexico Perspectives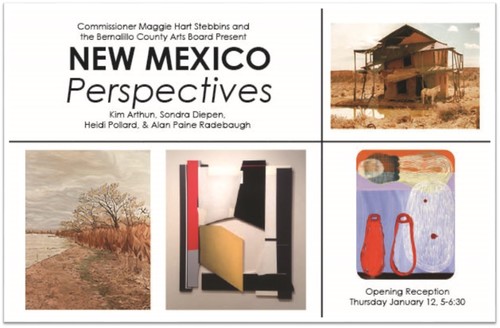 Commissioner Maggie Hart Stebbins and the
Bernalillo County Arts Board Present:

Bernalillo County, District 3 Art Exhibit
New Mexico Perspectives

Artists Reception:
Thursday, January 12th, 5:00-6:30pm
10th Floor of One Civic Plaza NW, Suite 10111, Albuquerque, NM.

This show is the 41st in a series of exhibits showcasing the talent and creativity of Bernalillo County artists; it will feature recently acquired pieces from the Bernalillo County Public Art collection by artists

Kim Arthun
Sondra Diepen
Heidi Pollard
Alan Paine Radebaugh

Bernalillo County's Public Art Program was established in 1992 with the adoption of the county's Art in Public Places Ordinance. The program is funded by one percent of the county's general obligation bonds passed during the general election every two years. The ordinance also created the Arts Board, a 10-member appointed advisory board that recommends artworks for public acquisition and display. Two members per district are appointed by their respective county commissioner.

The intent of the "Art in Bernalillo County Places" ordinance is to promote and encourage public awareness of the arts and cultural properties and to integrate art into Bernalillo County facilities and structures. The program currently has more than 300 works of art, most of which can be viewed via the Public Art Interactive Map link.
The exhibit will be on display in the County Manager's Office Suite through March. The public is welcome to stop by and view the art during regular office hours.
---
Non-Finito at Sanitary Tortilla Factory